A city car doesn't have to be a dull piece of metal that sucks the life out of you. There are plenty of fun-to-drive small cars out there that are perfect for zipping around any city. Here are ten that we really like.

Honda Fit
Honda gave the new Fit a 1.5-liter four-cylinder engine that makes 130 hp. And you'll definitely be able to make the most of that power because the tiny Fit also comes with a six-speed manual transmission.

Chevrolet Sonic RS
The Sonic's 138 hp from the turbocharged 1.4-liter engine is especially fun when paired with the optional six-speed. It's a small, light car that is perfect to zip in and out of traffic in a crowded city. And once you've had your fun, this thing will be just as easy to parallel park.

Audi A3 Sportback e-tron
As Audi's first plug-in, the Sportback e-tron isn't the cheapest hybrid you can buy: At nearly $40,000, it's about $10,000 more expensive than the Prius. But it looks way better and it has a combined power rating of 204 hp. You can also drive it in full electric mode if you want to save gas while cruising around the city.
Ford Fiesta ST
Because the Fiesta ST only weighs 2742 pounds and makes 197 hp, it has the same power-to-weight ratio as a first-gen BMW M3. That's a great start. Add in that it's surprisingly roomy on the inside for how small it is on the outside, and you have a perfect little hot hatch.
The days of passing up a parking spot labeled "compact" are over. The minute, spunky, and punchy 500 Abarth makes 160 hp and it'll draw attention anywhere it goes. It's got sportier looks and bits over the regular Fiat 500, and it sounds absolutely amazing. Perfect for echoing off of those tall building downtown.
Mazda Miata
Though the new Miata makes less power than the outgoing one, it weighs just 2313 pounds. That makes it faster and more engaging than the old car. So, smaller, faster, and just as fun as ever? That makes it a winner in our book.

Mini JCW Hardtop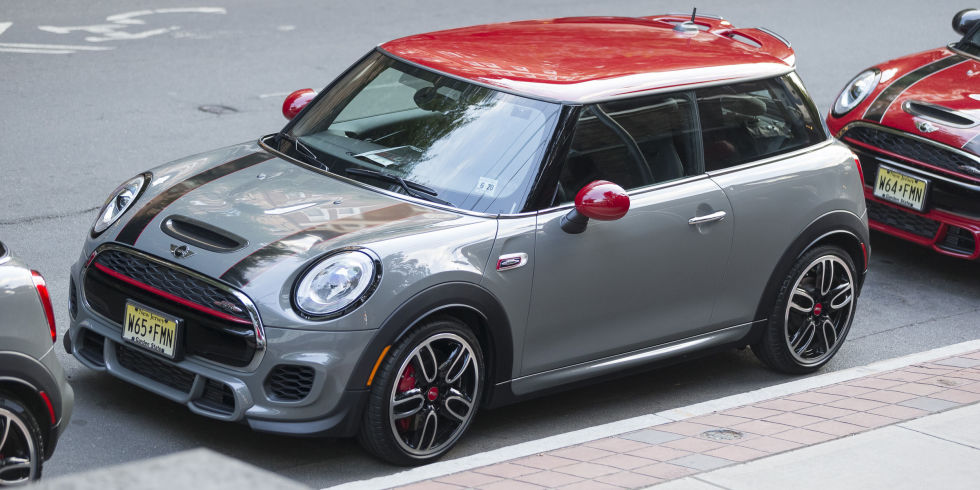 Whenever you mention a city car, a Mini will undoubtedly come to mind. And the JCW Hardtop is among the most fun. It might be expensive, but it's fast and funky. Isn't that what counts?

BMW i3
The i3 is BMW's vision for the future of urban transportation. It has 170 hp from its electric motors and has lightweight carbon fiber construction to help maximize the range. It also looks like a sci-fi film come to life.
A city car is a Smart Car and a Smart Car is a city car. The two go hand in hand. You don't see them off-road. You don't see them on the autobahn. You don't see them at Home Depot. You see them in cities, squeezed into the tiniest spot imaginable. The good news is that the newest version is also damn fun to drive. That makes it a winner.
You wouldn't think the Subaru BRZ (or the Scion FR-S) is something most people would choose to own in a city, but we think it'd be a good choice. You can sneak in and out of traffic like an urban autocross and then, when you get a chance to get out of the city, you have a car that'll be at home on any road. A real winner.